| | |
| --- | --- |
| Posted on June 7, 2020 at 12:50 AM | |
What is the Make Up Process for a Maiko or Geisha?
The makeup process for a Maiko and Geisha begins with application of bintsuke-abura, a special kind of oil.
This is then followed with white powder mixed with water that is applied to the skin with a special bamboo brush. The nape of the neck has the  W or V shape of clear skin which has no white makeup. Maiko has a "W" shape whereas a Geisha has "V" shaped bare skin at the nape of the neck. The hairline too is not painted white so as to give an illusion of a mask.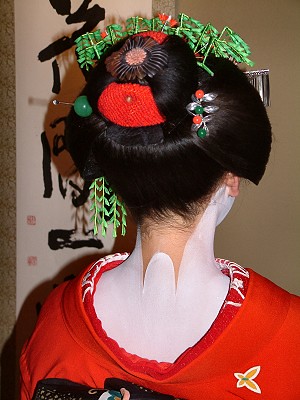 The eyebrows and eyes are drawn, with traditional charcoal. Maiko have red around her eyes, which distinguishes a Maiko from a Geisha.
The rank of the Geisha can easily be identified by looking at her lips. First year Maiko only have their lower lip filled with color. Only a full-fledged Geisha may have her lips fully colored red.  The intent of lip make up for a Maiko or Geisha is to give the illusion of a flower bud.

Categories: None
Comments are disabled.